Software Product Architecture Design & Development Services
Commdel'ssoftware product architecture design & development services convert the product concept to a blueprint for execution, which turns into a product design, which in turn is converted into working software, keeping a keen eye on that delicate balance between time-to-market, functionality, performance benchmarks and quality.
In today's fast-paced business world, our clients have to stay ahead of the competition by maintaining aggressive product release schedules to deliver new updates, features, functions and performance benchmarks, while simultaneously retaining their current customers by continuously delighting them. The only way they can flexibly increase their engineering bandwidth to simultaneously achieve these seemingly diverse results without significantly increasing their fixed personnel costs is by partnering with a company like Commdel with diverse product engineering capabilities.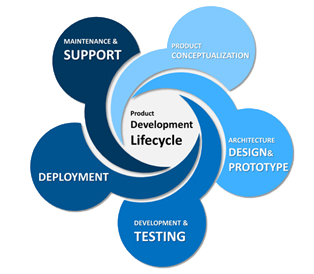 While Commdel offers expertise in all the implementation aspects of a product such as system architecture, design and development, we are very flexible in terms of participating wherever our clients want us to participate. In some cases, we offer all the three services whereas in others, we offer one or two of these depending on the client requirements.
Some important aspects of product architecture design development services involve:
Working off the Marketing Requirements Document and Product Specification Document and more concretely defining detailed requirements collaboratively with client's product marketing personnel and the CTO office (and sometimes client's customers), analyzing the mix of product functionality, performance, quality and schedule; and prioritizing the product offering into specifically defined releases.
Translating product definition into software architectural specifications taking into account the considerations mentioned above, resulting into a Software Product Architecture Specifications Document.
Designing products using industry-standard design tools and documentation templates, while closely adhering to client's internal standards and specifications, resulting into Product Design Specifications Document.
Developing the product using industry-standard (or client specific) development environment, tools, technologies and languages.
Working with test, support and professional services teams to ensure that the product is designed and developed for thorough testability, supportability and easy client Implementation.